Battery Cordless Curtain Track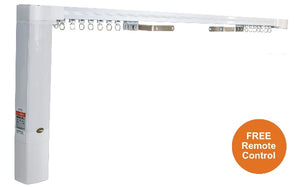 Features at a glance
   • Long life rechargeable battery powered track
   • Charger, plugs into a standard UK socket
   • Additional dry contact control interface
   • Remote controlled
   • No electrician required
   • Shaped and Bay window options
   • Existing curtain can be used
   • Wave runner options 60mm – 80mm
   • Self setting limits
   • Up to 6m track
   • Single or double draw
   • Quiet motor
   • Simple DIY installation
   • 3-year warranty
What is supplied in the kit? 
Your track, manufactured to your specific size and fully assembled
MD940 Motor c/w 14.8V rechargeable Li-ion battery
Battery charger and mains cable
Glider type of choice
Your choice of draw type – single or double draw
Choice of mounting brackets
Battery powered curtain track
Flexibility is the key with the battery powered Eazidraw Cordless curtain track, as the system can be installed almost anywhere, since there is no requirement for direct mains power supply. Ideal for retro-fitting with up to 500 operations between re-charges, it gives any mains-powered system a run for its money, with the added benefit of no wires and no need for an electrician.
The motor comes with a 14.8V Li-Ion battery that can be charged in situ or detached and charged separately. In the event of a flat battery, the curtains can also be operated manually.
Compatible with the easy-to-use timer control option, the curtains can be set to open and close automatically while you are at home, work or play. The timer function also acts as a security feature by simulating occupancy of the property whilst you are away.
All our radio-controlled curtain track systems have a built-in dry contact interface (DCI) at the base of the motor which can integrate with most home automation or building management systems, giving you that little bit more versatility.