Extendable Electric Curtain Track - Battery, Smartphone, 4 wire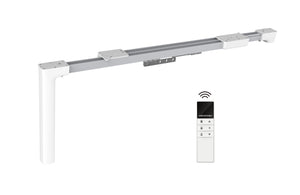 FEATURES (Some models may vary) 
   • Smartphone, remote control and touch control
   •

 

Compatible with Alexa, Siri and Google Assistant
   •

 

Curtain position feedback via App version
   • Intermediate position option
   • Quiet soft start and soft stop motion
   • Curtain weigh up to 40Kg (dependent on length)
   • Comes complete with 3m of cable
   • Pre-fitted UK mains plug
   • You can use your existing curtains
   • Uses standard curtain hooks
   • 1.7m -3m track length
   • 3-year warranty
 What is supplied in the kit? 
Extendable curtain track 1700mm - 3000mm range

Remote control
MP Motor complete with  3m mains lead with UK plug.
Standard Gliders

Suits a pair of curtains only
Ceiling mounting brackets
TELESCOPIC ELECTRIC CURTAIN TRACK 
This Eazidraw Extendable Electric Curtain Track is the perfect solution for DIY electric curtain tracks. With an adjustable length of between 1.7m - 3m you cannot go wrong.  It is suitable for most curtains and comes with easy-to-fix ceiling brackets for a hassle-free installation. This system is only suitable for a pair of curtains and will not work with a single curtain.  There is a choice of remote control, 4 wire, smartphone and battery-power, providing convenience and control to suit your application.