Eazipole Battery powered Curtain Pole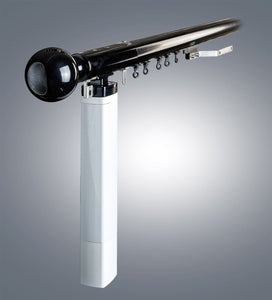 Features at a glance
   • Long life rechargeable battery powered track
   • Charger, plugs into a standard UK socket
   • Additional dry contact control interface
   • Remote controlled
   • No electrician required
   • Shaped and Bay window options
   • Existing curtain can be used
   • Wave runner option 60mm
   • Self setting limits
   • Up to 6m track
   • Single or double draw
   • Quiet motor
   • Simple DIY installation
   • 3-year warranty
What is supplied in the kit? 
Your pole, manufactured to your specific size and fully assembled
MP43L Motor c/w 14.8V rechargeable Li-ion battery
Battery charger and mains cable
Your choice of Black or Chrome finish
Ball Finials if selected

Your choice of draw type – single or double draw
Mounting brackets
Battery Powered Curtain Pole
The Eazipole Cordless is a rechargeable curtain pole which looks like a regular pole but with the motorised technology built in. As the system is rechargeable there is no requirement for a fixed connection to a mains supply meaning you can have the extra comfort even when retrofitting in your home.
After the simple DIY installation simply hang your existing curtains, charge up and away you go, it couldn't be easier. With operation via a remote control from your chair, a remote mounted on the wall or even your smartphone (via the USB smart gateway), control is made simple. Should third party connectivity be required, the motor has an external electrical connection for voltage free signals.
The kit comes complete with mains charger and the battery can either be removed and charged separately or left attached to the motor and charged in place. Alongside the traditional look of the maintenance free pole, the added bonus of the cordless system is that no electrician is required and there are no cables to hide.
The end positions can either be allowed to self set or can be user defined. Finally, the addition of touch control means if you are in the vicinity of the curtain a brief tug will start the curtain without any remote.