Remote control motorised Curtain Pole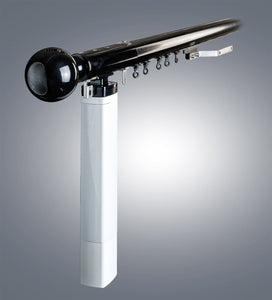 Features at a glance 
   • Remote control and touch control
   • Self setting of limit positions
   • Intermediate position option
   • Quiet soft start and soft stop motion
   • Curtain weight up to 40Kg (dependent on length)
   • External control option (BMS)
   • Comes complete with 3m of cable
   • Pre-fitted UK mains plug
   • Track can be shaped for bays etc.
   • You can use your existing curtains
   • Uses standard curtain hooks
   • Wave runner option (60mm)
   • Up to 6m track length
   • 3-year warranty
What is supplied in the kit? 
Your pole, manufactured to your specific size and fully assembled
MP46 Motor complete with standard UK plug
Your choice of Black or Chrome finish
Ball Finials if selected

Your choice of draw type – single or double draw
Mounting brackets
Electric curtain pole - Remote Control
The Eazipole Fine Touch motorised curtain pole utilises a 35mm diameter pole as standard, keeping the look of a conventional pole whilst keeping the Innovative technology hidden. Designed to function with the effectiveness of the electric curtain tracks but using a more stylish and sophisticated design. Operated by remote control, either as a hand-held device or wall mounted switch, offers versatility with luxury that the modern home craves. Touch control of the system means that a brief pull on the curtain will engage the motor and open or close as required. As with our range of curtain tracks each of our poles are simple to install and use. The Eazipole Fine Touch comes complete with the MP46 motor complete with a standard UK plug, built in radio control and even a special interface to which external voltage free signals can control the system allowing interface to most management systems.
Super durable with a long, trouble free life, the Eazipole Fine Touch uses the latest generation of super quiet DC motors, a maintenance free profile and textile belt for tranquil operation.
Supplied to your exact length and spec, the kit forms the basis of a simple fully assembled DIY install. Once the pole is fixed in place existing curtains and hooks simply hang on the pre-determined number of wheeled gliders. To complete the installation the end positions can simply be set automatically or at a position of choice. Two extra stops can be set for partial positions and our soft operation glides the curtain effortlessly.