Smartphone controlled Curtain Pole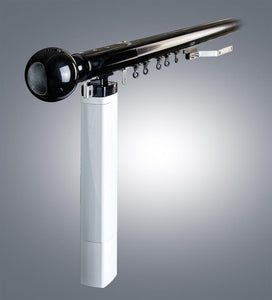 Features at a glance 
   • Smartphone, remote control and touch control
   •

 

Compatible with Alexa, Siri and Google Assistant
   •

 

Curtain position feedback via App
   • Intermediate position option
   • Quiet soft start and soft stop motion
   • Curtain weight up to 40Kg (dependent on length)
   •

 

Curtain position feedback via App
   • Comes complete with 3m of cable
   • Pre-fitted UK mains plug
   • Track can be shaped for bays etc.
   • You can use your existing curtains
   • Uses standard curtain hooks
   • Wave runner option (60mm)
   • Up to 6m track length
   • 3-year warranty


What is supplied in the kit? 
Your pole, manufactured to your specific size and fully assembled
MP46w Motor complete with power pack and 3m mains lead with standard UK plug
Your choice of colour
Ball Finials if selected

Your choice of draw type – single or double draw
Mounting brackets
Eazipole WiFi Electric Curtain Pole
The Eazipole WiFi smart 35mm curtain pole, looks like a traditional curtain pole but with the clever technology hidden away. Sharing the function and efficiency of the powered curtain track, but with an enhanced and more stylish design, the Eazipole WiFi offers superior functionality which is expected from its innovative WiFi drive technology.
Operated by smartphone, tablet or radio control, the system offers that extra bit of luxury that is becoming ever more widespread with modern day homes. The free APP can be used with both IOS and Android platforms and provides limitless timer operations and personalised scene possibilities. Additional control can be via Alexa, Siri and Google Assistant with real time positional feedback with gentle operation in the start and stop action. Once installed the setup couldn't be simpler by using self-set or user definable final positions. If remote control operation is used, a further two intermediate positions can be reached, however the App has limitless variants and scenes which can be personalised for those cosy nights in. Sensitive touch control allows the user to gently pull on the leading edge of the curtain and the motor simply takes over.
Devised as an easy to install and use system, the Eazidraw WiFi comes complete with a low voltage power pack and 3m mains lead ready to plug into a standard UK mains outlet. The motor even has an interface for voltage free contacts should integration to third party systems be required. The whisper quiet motor and maintenance free self-lubricating belt makes for an elegant solution.
All poles are supplied in a made to measure fully assembled form, and they are as simple as fitting any pole from a DIY shop. Simply fix the brackets and use your existing hooks to hang the curtains, it couldn't be easier.