The Mini Motorised Curtain Track - Electric Curtains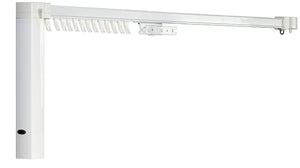 Features at a glance 
   • Remote control and touch control
   • Self setting of limit positions
   • Intermediate position option
   • Quiet soft start and soft stop motion
   • Designed for weight up to 40Kg
   • External control option (BMS)
   • Comes complete with 3m of cable
   • Pre-fitted UK mains plug
   • Track can be shaped for bays etc.
   • You can use your existing curtains
   • Uses standard hooks

 

in the runners / gliders
   • Wave runner option (60mm,80mm)
   • Up to 3m track length
   • 3-year warranty
What is supplied in the kit? 
Your track, manufactured to your specific size and fully assembled
MP46 Motor c/w pre-fitted UK mains plug and 3m flex.
Glider type of choice - Std or Wave
Your choice of draw type – single or double draw
Choice of mounting brackets - Wall or ceiling
Electric Curtain Track
The Mini remote controlled curtain rail is a luxurious addition to any modern home. With a smaller profiled track compared to most systems on the market, it is easy to install with self-set mode or user-adjustable stops via the remote. The motor offers a gentle soft start/stop action and has two special positions that you can personalise to add a touch of individuality to each home. This electric track is perfect for curtains in a bay window. The system can be operated using a range of remote controls, including hand-held or wall-mounted devices, as well as automatic timer controls. It offers flexibility in line with modern-day living. The installation has been made simple and the operation is intuitive, making it a popular choice. The motor comes pre-wired with a three-pin UK plug, and an interface on the underside of the motor allows for the connection of volt-free signals from external Building Management/Home Automation Systems.